介紹 Who are we
香港光輪洞合氣道是本港唯一教授光輪洞合氣道的組織。光輪洞合氣道是 平井稔道主於上世紀初創立。它揉合多種日本武術的傳統練習,包括體術、劍術、杖術、薙刀術等;注重 柔術的理論;研究以柔制剛,以弱勝強的方法。適合所有對日本武術傳統感到興趣的人士學習。
Hong Kong Korindo Aikido is a nonprofit community dedicated to the promotion of Korindo Aikido in Hong Kong. Korindo Aikido is a Japanese martial art which inherits traditions from several martial art schools, including taijutsu, kenjutsu, jojutsu, and other weapons. It was founded by Master Hirai Minoru some 80 years ago.
練習 Training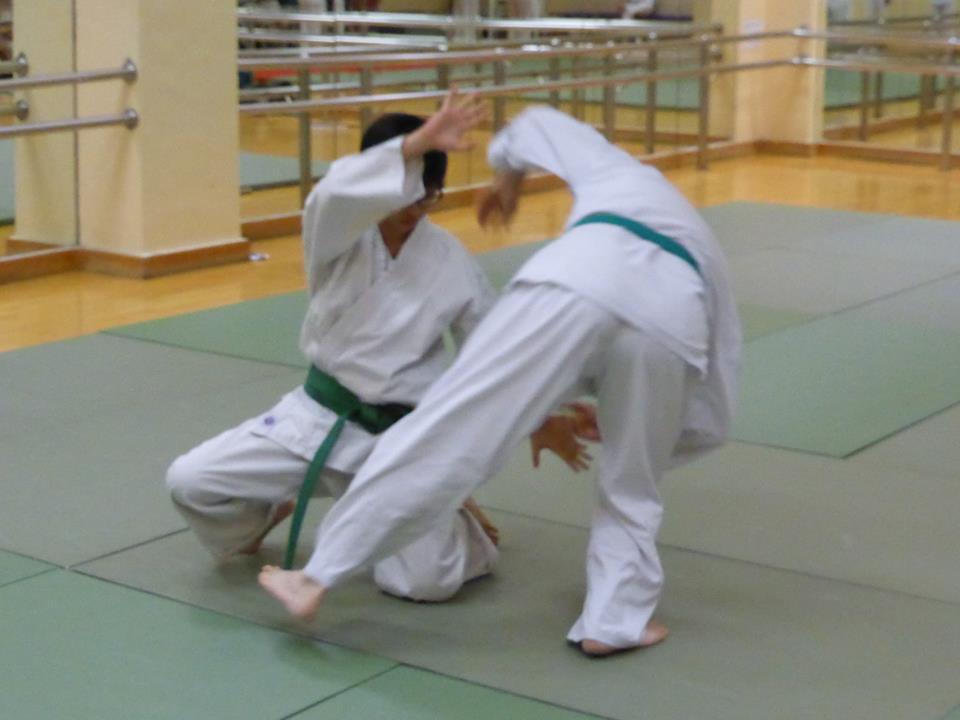 光輪洞合氣道的練習分為三部分:體捌、組型、和亂取。體捌練習身體動作和手腳協調;組型練習前輩的示範動作,攻守的理念等; 亂取練習組型的應用、間距和呼吸。除體術外,光輪洞合氣道的學員還要練習劍、杖等其他武器的應用。學員在取得黑帶初段之前,必須熟悉素振、基本動作、各種基本及高級的體術和武器組型。
Training in Korindo Aikido includes three areas: taisabaki, kumikata, and randori. Taisabaki is the training of body movement and coodination; kumikata includes attack and defence methods standardized by various masters to exemplify their principles of martial art; and randori is a free training for students to apply what they have learnt.
時間表 Schedule
本部道場
Hombu Dojo
每星期六 (Every SAT evening 7-9 pm)
16/8
九龍灣室內運動場 活動室 1
(Kowloon Bay Sports Centre)
Map
23/8
九龍灣室內運動場 活動室 1
(Kowloon Bay Sports Centre)
30/8
彩虹道室內運動場 活動室 2
(Choi Hung Rd Sports Centre)
Map
E-mail Enquiry (本部)
注意事項 notice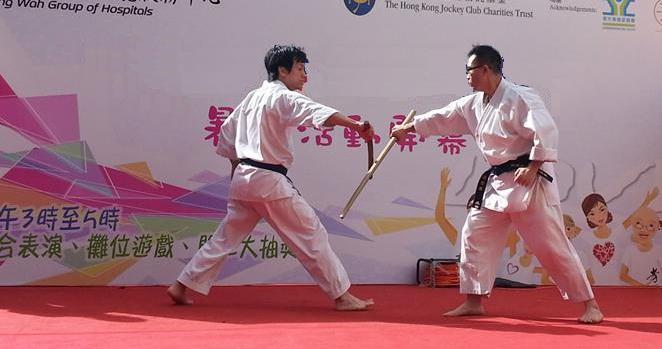 本部道場只接受14歲或以上人士參加。18歲以下的參加者須得監護人同意。與其他機構協辦的訓練班按有關機構的規定,也接受11歲或以上人士參加。
合氣道服與柔道或空手道服相同,學員應自備合氣道服。
所有參加者必須從白帶開始。
雖然光輪洞合氣道練習多種兵器,初學者未必需要購置刀棒等器械。道場有足夠器材供學員練習之用。
光輪洞合氣道定期舉行升級考試;學員考試合格,方可配戴指定的色帶。
道場訓練包括熱身運動、應用動作、受身、體捌、組型、亂取等;所有會員應於充分熱身之後,按指示練習。
本會不提供"試堂"服務,有意參加人士須以電郵事先聯絡。
As Korindo Aikido is very different from any other school of aikido, we expect all new comers to start as beginners -- and to wear white belts.
special Class (LHBF)
Date
Time
Venue
16/8
5-7pm
Kowloon Bay Sports Centre, Small Activity Room No. 1
Map
23/8
5-7pm
Kowloon Bay Sports Centre, Small Activity Room No. 1
Map
30/8
5-7pm
Choi Hung Rd Sports Centre, Squash court No. 2
Map
A special class is scheduled on every Saturday for people who wish to learn more about Chinese internal martial art. This is a class of Liu He Ba Fa (六合八法), a martial art school founded Chen Tuan (陳摶) in Sung Dynasty a thousand years ago. Chen Tuan is a major character in the history of taoism. His school has had very strong influence on Tai Chi and other taoist philosophies over the centuries. However, the martial art of LHBF has passed on exclusively among taoists who tended to keep the art as a secret until the recent years.
Our class welcomes anyone who is interested to learn internal martial art which is as powerful as any other schoools. As an internal martial art, LHBF forsakes muscular strength and sees spiritual and physical health as another objective of practising. (Thus the art is also suitable for people who do not have a strong physique.) Some resemblances might be found between LHBF and Tai Chi (and other internal schools), but learning LHBF would not be particularly easier to one with Tai chi background. Despite the difficulty, however, we still enjoy its brilliant practices and theories which, amazingly, were designed by the founder of LHBF based on a profound understanding of ergonomics and physiology of humans.